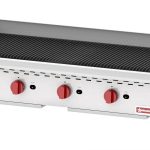 OMCAN 43729 COUNTERTOP RADIANT GAS CHAR-BROILER WITH 4 BURNERS CE-CN-CBR48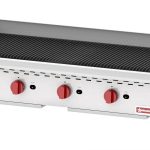 OMCAN 43729 COUNTERTOP RADIANT GAS CHAR-BROILER WITH 4 BURNERS CE-CN-CBR48
$1,498.00
$1,498.00
These Omcan Broilers are ideal for cooking steaks, chops, hamburgers and seafood. These units are sturdy and reliable option for the increasing demand of chargrilled food.
NUMBER OF BURNERS: 4 Burners
BTU: 160,000
COOKING AREA (WD): 48" x 20"
GAS TYPE: Propane / Natural Gas
DIMENSIONS (WDH): 48" x 30.3" x 16.7"
WEIGHT: 260 lbs.
Description
Technical Specs and Warranty
Description
Heavy-Duty Counter Top Radiant Broiler Omcan CE-CN-CBR48
This Heavy-Duty Counter Top Radiant Broiler Omcan CE-CN-CBR48 has the following features:
Features:
• Stainless steel construction and finish
• Heavy-duty cast iron grilling grates
• Manually controlled independent cooking zones
• Large and robust dial controls
• Stainless steel burners
• Burner manual valves
• Removable full-width waste tray
• Heavy-duty adjustable feet
• 3/4″ rear gas connection
• Propane Conversion kit (42967) included
See more broilers from Omcan and other top manufacturers here