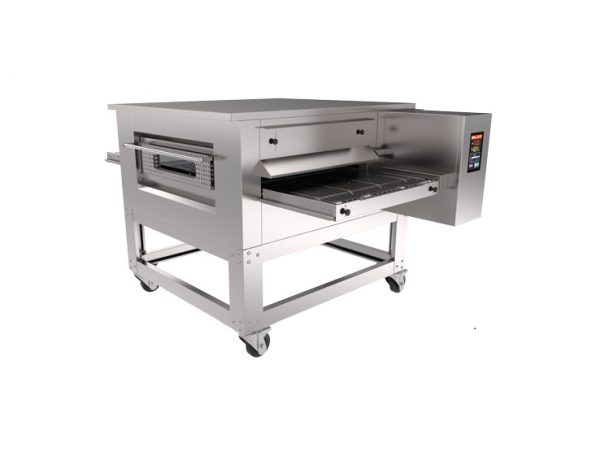 VENTILATED TUNNEL CONVEYOR OVEN, OMCAN CE-IT-0500
VENTILATED TUNNEL CONVEYOR OVEN, OMCAN CE-IT-0500
$13,280.00
$13,280.00
VENTILATED TUNNEL CONVEYOR OVEN
Manufacturer: OMCAN
Model: CE-IT-0500
Item# 46725
PREORDER IS REQUIRED
DELIVERY WITHIN 10-12 WEEKS
Description
Reviews (0)
SPECS
Description
The Omcan Ventilated Tunnel Oven is a perfect addition for any kitchen that requires consistent baked products efficiently and productively. This unit has been redesigned with new and modern features. The ventilated chamber provides consistent and uniform baking of foods by providing necessary air circulation. Thanks to its innovative cutting-edge display, the unit provides the freedom to adjust the temperatures, speed, and direction of the conveyor belt. This oven is designed to be durable providing an ability to stack up to three ovens at a time.
This unit has the following features:
POWER: 14.20kW
AMP: 39
OUTPUT/HOUR: 40 / with 13"dia.
ELECTRICAL: 230V / 60Hz / 3Ph
POWER CORD: 4n x 6mm2 (CORDLESS)
MAXIMUM SETTABLE TEMPERATURE ON TOP AND BOTTOM: 350 °C
MAXIMUM OPERATING AMBIENT TEMPERATURE: 0 – 40 °C
MAXIMUM HUMIDITY: 95%
CHAMBER DIMENSIONS: 19.6" x 29.5" x 3" | 500 x 750 x 100 mm
OUTSIDE DIMENSIONS: 66.9" x 46" x 19.7" | 1700 x 1177 x 500 mm
CONVEYOR BELT DIMENSIONS: 62.9" x 19.6" | 1600 x 500 mm
DIMENSION WITH STAND: 70" x 46.6" x 41.4 | 1778 x 1184 x 1051 mm
NET WEIGHT: 343.9 lbs. | 156 kg
WARRANTY 1 Year Parts and Labor
CERTIFICATIONS cQPSus
COUNTRY OF ORIGIN ITALY
GROSS WEIGHT 589 LBS
GROSS DIMENSIONS  81 x 57 x 30 IN
---
Only logged in customers who have purchased this product may leave a review.