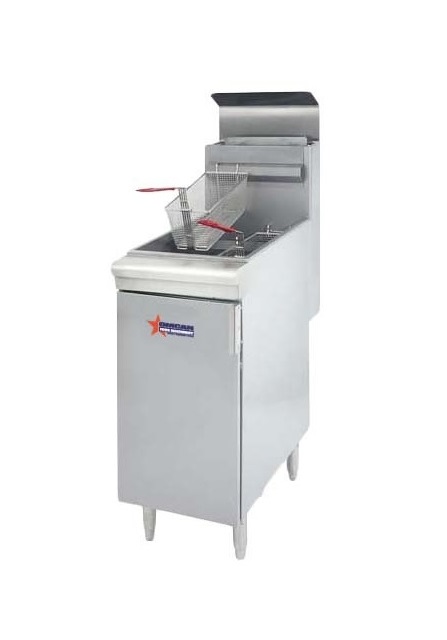 OMCAN 44225 NATURAL GAS FLOOR FRYER WITH 90,000 BTU, 40 lb, CE-CN-0023-FN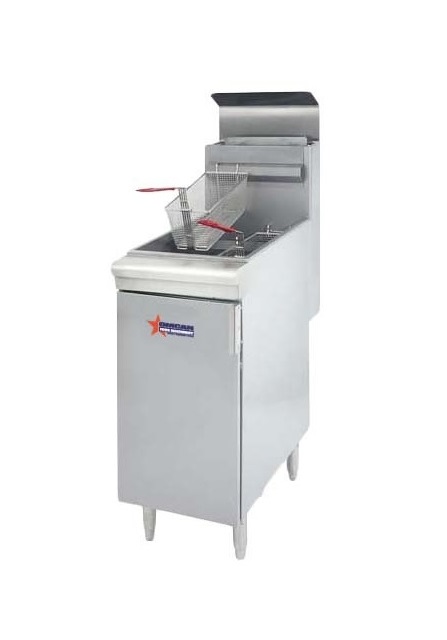 OMCAN 44225 NATURAL GAS FLOOR FRYER WITH 90,000 BTU, 40 lb, CE-CN-0023-FN
$935.00
$935.00
Natural Gas Floor Model Deep Fat Fryer 40lb
Manufacturer: Omcan
Model: CE-CN-0023FN
Item: 36490
Description
Natural Gas Floor Model Deep Fat Fryer 40lb  Omcan CE-CN-0023FN
This Natural Gas Floor Model Deep Fat Fryer 40lb  Omcan CE-CN-0023FN is constructed with a welded 16 gauge stainless steel tank. Thermostatically controlled baffles maintains temperatures between 200°F/90°C and 400°F/204°C, with an automatic safety shut off at 450°F/232°C. Fry tank is a pressure blasted all stainless steel tank with a high heat baffle system, cool zone, and 1 ¼" drain valve. Conforms to NSF/ANSI STD 4.
Model: CE-CN-0023-FN
Item: 36490
Gas Type: Natural Gas
BTU: 90,000
Dimensions: 30.25" x 15.5" x 53.5
Oil Capacity: 18.5-23 L
Net Weight: 152 lbs.
Gross Weight: 169 lbs.
Included accessories:
• 2 nickle plated wire mesh baskets included
• 1 nickle plated tube rack
• 1 drain extension
• Built in heat deflector
• Adjustable legs