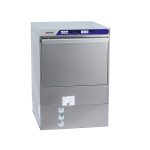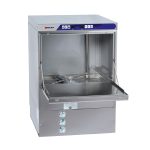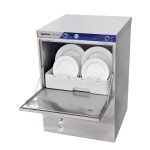 COMMERCIAL UNDERCOUNTER HIGH TEMPERATURE DISHWASHER 23″ DIGITAL CONTROL OMCAN CD-GR-0500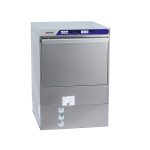 COMMERCIAL UNDERCOUNTER HIGH TEMPERATURE DISHWASHER 23″ DIGITAL CONTROL OMCAN CD-GR-0500
$3,300.00
$3,300.00
COMMERCIAL UNDERCOUNTER HIGH TEMPERATURE DISHWASHER 23″ DIGITAL CONTROL
Manufacturer: OMCAN
Model: CD-GR-0500
Item: 46798
Description
Reviews (0)
SPECS
Description
COMMERCIAL UNDERCOUNTER HIGH TEMPERATURE DISHWASHER 23″ DIGITAL CONTROL OMCAN CD-GR-0500
Maintaining clean dishes is important for any foodservice operation. Omcan digital control dishwashers, you can assure that you can keep up with the demands for your operation. Our dishwashers come with dish racks for convenience. Our units also provide ease of use for operators.  This COMMERCIAL UNDERCOUNTER HIGH TEMPERATURE DISHWASHER 23″ DIGITAL CONTROL OMCAN CD-GR-0500 has the following features:
FEATURES:
The new and improved door mechanism
Door opening: 14″ / 360mm
Double skin door
Washing pump: IP44
Standard tank and boiler thermometer
Standard draining pump
Standard detergent pump
Standard rinsing thermo detector
3 washing cycles
Proof rinse feature ensures proper sanitized rinse cycle temperature
Low maintenance, heavy duty, all corrosion resistant, 304 SS
Thermal protection for wash and tank booster
---
Only logged in customers who have purchased this product may leave a review.
PDF FILE: 46798_Undercounter_Dishwasher SPECS
ITEM: 46798
BASKET SIZE: 20" x 20"
ELECTRICAL: 208-240V/ 60Hz /1Ph
POWER: 3.6 kW
AMP: 16A
WASH PUMP: 0.75 HP
PLUG AND WIRE (not included): Requires a certified electrician to install unit
FLOW PRESSURE: 20 psi ± 5
WATER CONSUMPTION / RACK: 0.58 gal (2nd program)
WATER CONSUMPTION / HOUR: 11.0 gph
WATER INLET CONNECTION: 3/4"
DRAINING CONNECTION: 1.0"
CAPACITY: Booster tank: 6L ; Wash tank: 35L
HEATING ELEMENT: Booster tank: 3 kW; Wash tank: 2.8 kW
RACK / HOUR (1ST PROGRAM): 28
RACK / HOUR (2ND PROGRAM): 19
RACK / HOUR (3RD PROGRAM): 14
WASH CYCLE 1: 103 sec
WASH CYCLE 2: 223 sec
WASH CYCLE 3: 343 sec
RINSE CYCLE: 16 sec
WASHING TEMPERATURE: 78 ℃ / 172.4 ℉
RINSING TEMPERATURE: 78 ℃ / 172.4 ℉
DOOR CLEARANCE: 14"/ 360 mm
USEFUL DOOR OPENING: 12.8" / 325 mm
NET DIMENSIONS(WDH): 22.5" x 24" x 33" / 573 x 617 x 836 mm ( 38" / 966 mm with door open)
GROSS DIMENSIONS: 23" x 27" x 38.5" / 590 x 690 x 980 mm
GROSS WEIGHT: 132 lbs/ 60 kg